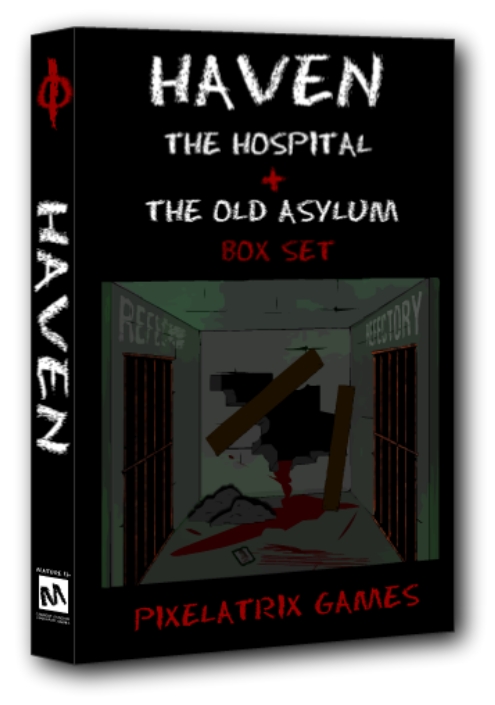 Pixelatrix Games is pleased to announce the release of our best point-and-click adventure game yet: Haven. Based on psychiatric practices and the treatment of the mentally ill in the (not so distant) past, Haven is actually composed of two games: Haven - The Hospital (FREE!) and Haven - The Old Asylum. ($10.00 $4.99 on sale!) You wake up in a hospital room. The staff is dead, a few patients are missing, and you're not feeling so good yourself.
Are you alone? Can you get out? Will you solve the mystery of Haven? In order to reach your goal you'll have to solve puzzles, confer with ghosts, unlock secrets, avenge past deeds, conquer evil, and restore faith in humanity. You have in your possession a pillowcase, a notebook, and a jack-in-the-box.
Are you ready? Come to Haven.
Grisly, Creepy, Charming Horror
All is not right in the Ferkakta mental hospital. For one thing, you're trapped inside. For another, everyone you meet is either crazy or dead. Most are both. Pixelatrix Games follows up their previous adventure games with their best and bloodiest title yet, "Haven."
"Haven" is actually a series of two games. Part one, "The Hospital," is a very playable point-and-click of the trapped-in-some-damned-place genre. As with "House" (the last Pixelatrix tour de force), the setting is creepy, yet somehow charming; the many puddles of blood and fresh corpses littering the place are drawn in the Pixelatrix cartoon manner, a style which is incapable of giving offense. When you start to play, get ready for several well spent hours. The difficulty is not in finding the precise pixel to click on (as with too many point-and-click offerings); the challenge is in working out the clever and ingenious ways you must use the unusual objects at hand. Like all good puzzles, this game was made not to frustrate, but to delight the player.
Part two, "The Asylum," clicks it up a notch. You've found your way out of the hospital, but there are still questions you cannot bear to leave unanswered, and so your quest takes you deep, deep into the bowels of the long-abandoned Haven Lunatic Asylum. The Asylum is quite different from The Hospital, both more challenging and more gratifying, as a game and as a story. The puzzles require more wit and concentration. Trying to use various things at random won't always avail you, as some of the puzzles in this haunted ruin are more like code-breaking than point-and-clicking. (If you have played "Shipwrecked," you know Pixelatrix's puzzle-creation skills are legendary. And if you haven't, jeez, why not?) And by the end, when you have finally solved the mystery and righted all wrongs, you will feel as good as if... well, as if you have finally solved a mystery and righted all wrongs. Which feels incredibly good.